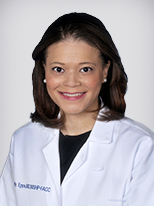 The American Heart Association Greater Washington Region has added a new president, chair-elect and four new members to its board of directors as others have completed their board terms.
Dr. Kelly Epps-Anderson, an interventional cardiologist at Inova Heart and Vascular Institute, has been named president of the board and will serve in this role for two years. She succeeds Federico Asch, director of the echocardiography core lab at MedStar Health Research Institute, who completed his 2-year term and will continue to serve on the board.
Epps-Anderson is focused on women's cardiovascular health, is the director of the Inova Women's Cardiovascular Health Center and co-founded Inova's cardio-oncology program.
Amry Junaideen, principal at Deloitte & Touche LLP, has been named chair-elect of the board, and will begin his 2-year term July 1, 2023. Junaideen brings nearly 30 years of global, multi-industry experience including client service, firm management, operations, talent and governance.
Erich Sanchack, chief operating officer for Digital Realty, will also end his tenure after a 6-year board term and long-time role as a volunteer leader.
"We will truly miss Erich as part of our Greater Washington Region board but look forward to all that he will accomplish as he continues to lead through volunteerism throughout the organization!" said Owen Billman, chair of the Greater Washington Region board of directors and president of Blake Real Estate. "We thank Federico for his leadership and his continued work on the AHA on the board."
Additional new members include:
John Harrity, partner at Harrity & Harrity LLP
Erin Henderson Moore, executive director of Washington, D.C. & Maryland at UnitedHealthcare Community & State
Monique Sanfuentes, administrative director of community affairs and population health at

 

Suburban Hospital/Johns Hopkins Medicine
Vishal Tulsian, senior vice president of operations at SAIC
Incoming board members will work with Epps, Billman, Junaideen, Asch and other volunteer members to advance mission and fundraising priorities for the AHA. The board will also oversee opportunities for investment in the Greater Washington Region to improve health and well-being.
"As champions for health equity, the American Heart Association believes that everyone everywhere deserves the opportunity to live a full and healthy life," Billman said. "Together, this board will work hard to advance the Association's work so that every single person across our community has access to the resources they need to be healthy."