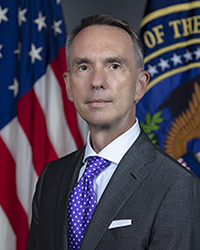 Peraton has appointed Andrew Hallman, formerly with the Office of the Director of National Intelligence and the CIA, as vice president of national security strategy and integration.
Hallman will lead the company's efforts to build, test and execute transformative intelligence programs from concept through operations. He will be a principal contributor to Peraton's enterprise-level strategy for current and future intelligence business, and will contribute to the company's ability to support critical government needs related to technology-enabled intelligence operations.
"Andrew is truly a national asset," said Peraton Chairman, President and CEO Stu Shea. "He is a rare breed with a tremendous command of the complex national security issues facing our nation and understands the critical interdependencies between customer mission, technology, government policy, and national budget priorities."
Hallman has spent his entire career at the forefront of global national security issues and innovation in intelligence collection. He previously served as ODNI principal executive and former CIA deputy director for digital innovation.
"As he's proven throughout his career, Andrew can create and lead broad, multi-disciplinary teams attacking emerging intelligence issues," Shea said. "His contributions will be immediately accretive to Peraton's continued success and help us to further differentiate ourselves from traditional competitors in the national security market."