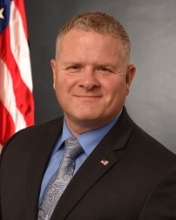 Guidehouse has named Lance Robertson, former Department of Health and Human Services assistant secretary for aging, as director.
A U.S. Army veteran, Robertson will support Guidehouse's full spectrum of long-term care and community-based services and support solutions. An expert in aging and disability services, Robertson recently played a key role in advising the COVID-19 vaccine distribution strategy and addressing issues facing vulnerable populations.
Guidehouse CEO Scott McIntyre said Robertson "is a strong addition to our team of seasoned consultants working across the healthcare continuum to advance holistic care and wellness."
Robertson said he's honored to join an organization at the forefront of addressing U.S. health inequities.
"I look forward to working with Guidehouse's clinical and community-based program experts and clients on strategies to improve overall health for our vulnerable populations," he added.
Alicia Harkness, Guidehouse partner and health segment leader, said Robertson's "successful career is reflected throughout his leadership in advancing federal and state community living programs."
"It is an honor to have him on our team of experts who are working with public and private organizations to modernize and integrate the healthcare delivery system," she added.