The FBI released a video Oct. 6 featuring multiple national security agency leaders discussing their shared commitment to fight any meddling with the 2020 election, including foreign interference and the spread of propaganda on social media.
Starting off, FBI Director Christopher Wray said election integrity remains a top priority, and the bureau is working to identify and counter any threats from disrupting the event. Wray emphasized the importance of the voices of all Americans regardless of voting method and said safeguarding those voices is one of the FBI's highest priorities.
He then discussed election-related crimes like voter fraud and foreign interference, and how the FBI works with its government and industry partners to pinpoint and thwart any threats to the election.
"As always, the men and women of the FBI remain committed to protecting the American people, our democracy and the integrity of our elections," Wray said.
Next, National Security Agency chief Gen. Paul Nakasone discussed his agency's role in safeguarding U.S. elections. He explained the work NSA does to protect U.S. elections, including generating insights, enabling defenses and imposing costs on adversaries when necessary. NSA also plans and executes cyber operations in defense of the nation, working with partners in the U.S. and internationally to ensure Americans are protected from cyberthreats.
NSA's work against foreign adversaries includes the agency's Foreign Signals Intelligence Mission, which "generates deep insights" into high-priority adversaries. Additionally, NSA works to shield sensitive networks and information and alert its partners about potential vulnerabilities.
"When you combine the insights and expertise of the world's preeminent cryptologic agency with the capabilities of a military combatant command, you get a powerful united effort that helps defend our nation and secure the future," Nakasone said.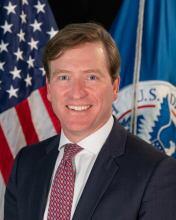 Next, Christopher Krebs, director of the Cybersecurity and Infrastructure Security Agency, said he believes the 2020 election will remain safe from any outside threats.
"I'm here today to tell you that my confidence in the security of your vote has never been higher," he added, referencing an "unprecedented" national security effort that has been taking place over the past few years. CISA has been working with state and local officials since 2017 to ensure election systems nationwide are secure and the voting process is more auditable.
Although elections will be different this year, Americans will vote and thus will be the last line of defense against threats to the election, Krebs said. CISA and its partners will remain alert, but voters can play a role in safeguarding the election by being prepared, participating and being patient with the results, as delays may happen this year as a result of COVID-19, Krebs added.
Next, National Counterintelligence and Security Center Director William Evanina described the steps adversaries are taking to sway the election, including disinformation campaigns, cyber activities and collecting negative information on prominent Americans.
Despite these threats, Evanina stressed his confidence in the integrity of the upcoming election. He said the election system remains "resilient" and incredibly difficult to interfere with.
"I can assure you the intelligence community is working around the clock and around the world safeguarding our elections," he said. "Our collective posture to neutralize and expose these activities is unprecedented, robust and unwavering."
He then emphasized the role of American voters, as they are the targets of these threats to U.S. elections. He encouraged the public to stay informed and vote to send a message to the nation's adversaries.